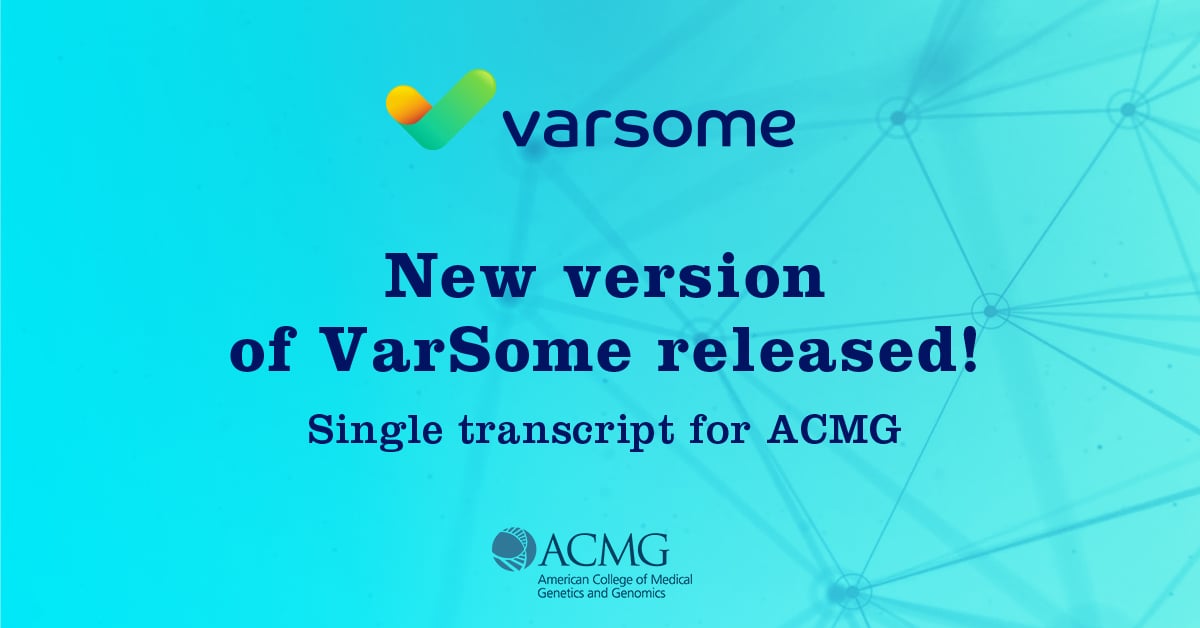 We are proud to present the latest version of VarSome.com with the following new features and improvements.
Watch VarSome video!
Single transcript for ACMG classification
Until now, VarSome has been using automatically the canonical transcript as the default transcript for automated interpretation of ACMG guidelines. However, since today:
The transcript is chosen based on the severity of the coding impact, then whether there's a canonical transcript, and failing that, whichever transcript encodes the longest protein.
On VarSome.com, the user can manually override the default transcript for ACMG classification. For example if the variant has a different coding impact in that transcript it may change the ACMG verdict.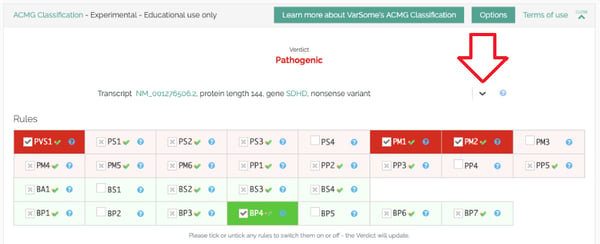 The blue question mark next to the transcript explains why the transcript was automatically selected:

This feature is also available in VarSome Clinical, where you can even define your preferred transcript for annotation of each gene on a global level, which may be quite useful for accreditation and validation purposes.
Adjustment of ACMG criteria
BA1 now reports the highest ethnic frequency if the global frequency is between 0.5% and 5%.
PM1 uses a narrower hot-spot region (15 base-pairs on either side of the variant) and the thresholds have been refined.
"Variant Spectrum" rules PP2 and BP1 have been refined.
The accuracy of the computational evidence has been improved.
The automated ACMG annotation now picks a single transcript and uses it consistently when evaluating all the ACMG criteria.
Improvements to the rules themselves.
Many smaller improvements & improved legibility of the explanatory text.
User interface
Improved links back to source web-sites for GnomAD, RefSeq & Ensembl.
Selection screen for rs# variants when there are multiple interpretations.
Numerous usability improvements and small bug fixes.
When an rsID query results in several genomic variants, we ask the user to select in an intermediate selection screen, as we do when there are multiple transcripts.
Watch VarSome video!
Thank you!
As ever, we hope that you find VarSome.com useful, and we are continually striving to improve the platform. Do please contact us if you notice any incorrect data or have suggestions on how to improve the platform.